Tree of Life Christmas Meditations Event, 2021
ToL general descriptions
ToL index * Pathworking index
ToL Tarot Quest Location Introduction
---
This article is from the current Reality Creator Series Books, or upcoming books, or website content. © copyright 1995 - 2022 by Tom DeLiso
---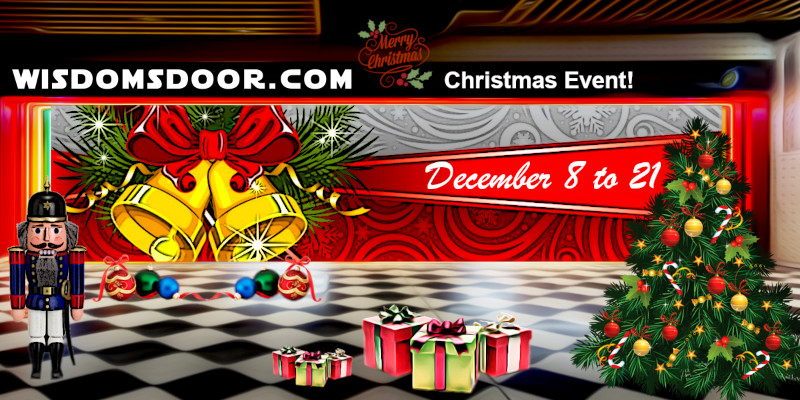 RC Radio: About the WD Tree of Life Christmas Event!

Introduction
"Tree of Life Christmas Meditaions" starting December 8 and Ending on December 21, with a bonus New Year's Eve Meditation on Dec 31.
Christmas Event: 15 to 30 minute meditation a day, preferably at one of the following times. See Current Events Page for Meditation time and countdown timers! NA time is the most common.
This is a self-guided event! We will have a new Picture of the Day for each day that goes along with the Tree of Life place we are aiming for, and a 15 to 30 min meditation for that day leading up to and finishing on December 21 (the solstice). The idea is to build our energy and connection to spirit over those days and tune into that energy of brotherly love that is very potent this time of year. Feel free to join in from your desk, workplace, or home to tune into the group energy and perhaps have yourself a Christmas journey with spirit. If you want a quick lesson in travel meditation see my Getting Started Playlist on YouTube.
We will travel the Tree of Life Lightening Path in reverse from Malkuth to Kether then finish up on December 20 back at Malkuth. Then on December 21, we will take all the energy we gathered and go through the Orion Gate in Kether Citadel to have a personal adventure in a far-off place. Each Sephira we visit will have its own unique spiritual gift that will come from one of the Tree of Life nonphysical Masters.
So join us for a wonderful adventure through time and space to unbelievable places and receive unique spiritual gifts that will only be available on that day.
Note: New RCRadio shows to be posted on the day of the event. Refresh browser if needed to see it.
---
Locations and Adventures